I realised recently that I haven't been sharing much of my work on here anymore! Not intentionally, it kind of just got buried in the busyness. So today I'm sharing some hand lettering & watercolour illustrations projects I really enjoyed: a hand lettered birth announcement and some illustrations for little Samuel…
Marni contacted me a few months before her due date with a commission request for some illustrations for her baby's room, and a birth announcement for when he arrived. She liked
this one
that I had done previously and wanted something similar. She requested three woodland animal illustrations, and although animals aren't quite my forté I enjoyed creating these and Marni loved them. Here's a look at the full set and some details…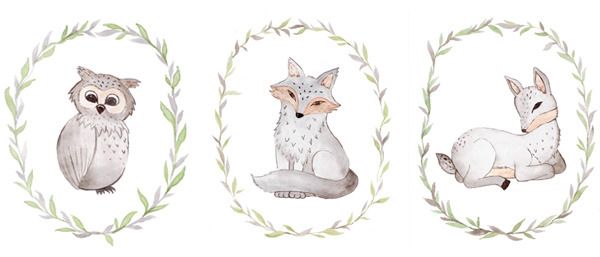 Then, a few months later, it was getting close to the due date for Marni's little one. She had given me most of the wording beforehand so I could do some planning, and the other surprise info (weight, height, time and photo) would be provided once the baby arrived. Of course with this being a birth announcement, it all needed to be done pretty quickly after his arrival, so it was rather exciting. Marni let me know when she was going into hospital so I knew when to allow time to get it done. It felt like I was part of their whole exciting experience, which I loved! Once they were all healthy and happy and home, they sent through some pics, which we'd discussed earlier, and the additional info, and I got it to her the next day to send out to her friends and family.  I'm told they all loved it!
Here's a look at some process and details and the final piece…
How amazing to be able to have a part in such a special occasion! I love this hand lettering style and am so glad everyone was happy with the end result.
The birth announcement is a great way of creating a memorable and functional piece of art to mark the special day. It can be sent out as an informational piece, and then also printed and framed as a special memory of that day.
Drop me a mail if you'd like to commission an illustration or lettering piece 😉
Follow Happiness is…
twitter
•
facebook
•
instagram
•
pinterest
•
bloglovin'