TODAY I'M GOING TO TELL YOU ABOUT…

Ever wanted to sell your products on an online store, but didn't because it seems scary? I'm going to give you some insight into what's out there, best practices and what to watch out for.
GETTING STARTED
First off, do some searching for online stores to find out what's available and what will best suit your product range. There are many options out there, each with different requirements and suited to different products. Just like in a normal store, you have to make sure that the online stores you choose to stock are aimed at your target audience. Look around at other seller's pages to get a feel for the kind of info you'll need to share and to see that the quality of products offered are in line with yours – you don't want to be represented on a site that doesn't suit the level of your work. Some sites, like Etsy, even allow you to see how many sales each shop has made and when they started their store.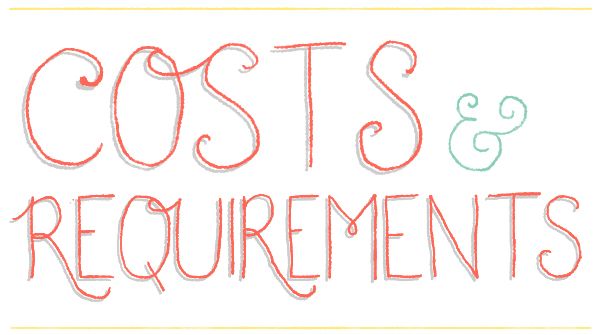 Once you've narrowed down your online store options and decided on a few that are worth looking into, it's time to look at pricing and requirements. Different online stores have very different ways of charging you for your store page and products, so this is pretty important. Here are some of the different ways you could be charged:
• a commission percentage off each sale
• a monthly fee for your store
• a fee per product upload
• a product renewal fee (where you pay at regular intervals for each product to continue to have it listed)
Most sites use a combination of a few of these charges. Look into how their payment system works – how will you be paid out for sales and when? If it's an international site, or even a local site that sells internationally, you may need to set up a Paypal account to receive payments. This also means added fees to receive payments into Paypal and to withdraw them to your own bank account. These will, of course, all need to be factored into your selling price.
Also watch out for limitations. Depending on how many products you have to offer this may or may not be an issue. Stores that offer "starter" or "free" store options often have a limit to the number of products you're allowed to upload and other functionality that's available to you as a seller. On the flip side, a paid option may have lower commission rates and more seller functionality.
TERMS & CONDITIONS
Apart from the costing aspects, make sure to read and understand any other requirements they may have. Things you might encounter here include things like:
• you may be required to sell exclusively on their site, meaning products that you sell on that site can't be sold elsewhere
• products might have to be completely handmade
• products might have to be made locally
• generally photos have to be your own, but this is a given by now. No photos taken off Google images or stolen from similar sellers, etc.
It's important to pay attention to these rules as you could be kicked off the site if caught out. They are the terms of using the site as your platform, so it's good to respect that.
This all sounds like it could get pretty tricky, but it's really just about reading through the seller information properly. This info is generally all in the same place and pretty clearly explained, it's just up to you to see what best suits your requirements. If you're unsure about anything, rather contact them and ask – this will also give you an opportunity to check out their customer service.

Online stores have different ways of dealing with sellers, products and delivery. Here are some variations:
• Society6 is an example of a store geared towards illustration and design that takes your designs and makes up products for you. They handle everything from product production to shipping and delivery, all you have to is provide the artwork. I find this really cool since it's sometimes difficult and costly to get products made up in small quantities on your own. For this type of system, each product requires specific artwork sizes, so that's a requirement you'll need to bear in mind when creating your work.
• Some sites require that you send them a few of each of your products for them to keep in stock, and when orders come through they handle the delivery.
• Some stores work just as online platforms for you to run your own store, so you deal with every aspect of it personally, from contacting the customer to delivering the product.
Some sites may need to review your products to make sure you suit their range before they grant you access, so be sure to have good product photos available. Product photos are a very important part of an online store. Good photos are more enticing and offering different views of your product with close-ups of detail elements helps to make your potential customer feel more comfortable that they know exactly what they're getting.
One of the stores I use is HelloPretty, a proudly South African company with an incredible team behind it. I asked them to share some tips on best practice for sellers when setting up a store:
1.  Be descriptive in your descriptions and photographs. It is important to have a descriptive title. For a silly example, 'Silver Ring' is not going to get the right type of traffic that "Delicate Infinity Ring in Silver, Gold or Copper". The more detail you give the customer, the better. Describe lengths and widths, describe materials. Add a personal edge and tell them about anything interesting in the creation process – eg: "I sourced vintage railway sleeper wood to make this out of…".
2. Shipping. People always get this wrong. The customer will do anything they can to get out of shipping, there's a weird psychological barrier. And even though we know this, we have been guilty of this ourselves! We researched this and found that, let's say you have a R100 product. Shipping is R50. So now your total is R150. The identical product will sell better if you charge R150, and offer free shipping, instead of charging separately.
3. Offer exchanges and refunds! Many people don't do this because of the handmade nature of what they're selling. However, South Africa's consumer protection act does in fact require them to. When a customer knows that they can return an item that they aren't happy with, they'll be far less hesitant to buy it. Plus, it's the right thing to do. Wouldn't you want to know that you could return something that you weren't happy with? And I will throw in a little secret here: in the entire history of Hello Pretty's running, we have had one lonely return that we've had to process. One. Just because you offer returns doesn't mean people are going to return the things they bought! They bought it because they want it. So offer free returns.
5. Timelines. Be very clear about how long it takes to make an item, how long it takes to ship, and how long it will take to get to them post-shipping. Offer a courier option for customers who're desperate to get their things in a hurry.
6. Be nice! Most customers who order from you are doing so with butterflies in their stomach and a degree of mistrust for purchasing something over the internet. Many South Africans in particular are still not fully comfortable with the online space, and you'll probably find that many of your customers are buying online for the first time. As soon as you receive their order, send them a quick email or an sms letting them know that it's been received. This small and simple thing makes quite a big difference to their customer experience and if something does go wrong further in the process they're going to be a lot more understanding. Lack of communication towards your customer is more damaging than people realise. Also do the same at every step of the process – "Hey Customer Name, Just dropped your product off at the post office. They said it'll take 7 to 10 working days. Here's your tracking number: 123456. Hope you enjoy your product name!". Sidebar to this point: people appreciate a personal experience and it's always nice to use their name or something personal when you're corresponding with them.
7. Keep it simple. Don't put too many fussy design elements all over the place. Don't put five million social links in either. Your goal is for people to buy your stuff, and you don't want to be distracting their attention away from your stuff.
BONUS! If you sign up as a seller at HelloPretty using "Happiness is…" as reference in the comment box, you get 2 free months of selling! 
SOMETHING TO REMEMBER
Online sales don't generally happen overnight, so if you don't immediately receive tons of sales, don't be disheartened. Like most other things, it also requires promotion on your part via your social media channels and any other media that you use, to let your customers know that they can buy from you online. If they don't know about it, they can't make use of it, so make this as visible as possible wherever you can so that it's nice and clear. Maybe even offer vouchers or specials to get reluctant people to try it out. Once they see how easy it is, they're sure to be back for more.
I hope this post has been helpful! If you have other questions, please feel free to contact me and I'll answer to the best of my knowledge and experience. View my HelloPretty store here and my Society6 store here
Don't forget to catch Phillipa's post tomorrow on "Networking"
*This post is part of a blog series where 9 creative women are sharing tips on 'How to start your own creative business'. If you've missed a day or two, then don't waste another minute, click here to read about the series and get the links to all the other AMAZING blog posts.