It's been such a while since I've shared some work with you on here! I've been busy with lots of awesome projects, which I'll be sharing with you over the next few weeks.
Much earlier this year I had the opportunity of working with friend and colleague, Nicola Tweed. She's a fantastic local web designer and developer, and she wanted to get some branding done to take her business to the next level along with launching a new blog and site.
Nicola contacted me about this while she was in the planning phases of this project, and she had lots of questions before we began. This is great, because it helped her plan herself for the project and work out budgeting. Once she was ready, we chatted again and she chose a branding package from my options that suited her needs, and we got going.
The first part of the process is signing a contract between us and providing an initial payment. Contracts often get a bad rap, but I believe they're vital to a good working relationship. They fill the role of putting everything down so that both sides know exactly what's expected, what's ok and what's not. Without a contract problems may arise later, not due to malicious intent, but just misunderstandings or miscommunication. They can also make sure things stay on track and move along smoothly, and they protect both sides. I keep my contract in plain English, free from jargony legalise and easily understandable, so that you can be sure there's nothing scary or uncertain in there.
Payments are usually split into two, 50% upfront and 50% on completion. However, depending on the project and budget this may get divided further if necessary.
At this point in a branding project I'll send through a questionnaire which gives me a full overview of your brand, your goals for the brand and what you'd like to see as an end result of the project. This helps me make sure I design something that serves your purpose and is in line with your goals, and that you're happy with it. I'll also ask for reference images from you so that I have a clear idea of what you envision. These are either sent through via email or shared on a Pinterest board.
Here's some of Nicola's reference that was initially sent through for her branding…
After this I'll get started on some ideas and create a few initial options. These are then sent through for you to have a look at and provide feedback: are they on the right track, which one do you like most, which one is most suited to your target customers/clients, etc. From there I'll take your feedback and work on a more specific option, and we continue with that process a few times until the design is where it needs to be. For some people a design speaks to them from the first draft stage and it ends up being a pretty quick process, while for others it takes a bit more work, but it's all part of the process.
Nicola's was a pretty quick process as we found a look she liked almost immediately. Here are some other looks that we went through…
Nicola's chosen branding package involved a comprehensive set of elements that she can now use across anything she does in future, as should be done with good branding. This includes a colour palette, font recommendation, logo alternates, a custom pattern design and a one page brand guide as seen below. This is useful to have a general overlook of your brand elements to keep in mind, and is also great to have for when you need to take your work to anyone else to work on, i.e. printers, packaging people, web designers, etc. You'll need them to keep to your brand guidelines, so providing them with this sheet makes that easier.
This is what Nicola had to say when we were done:
"I don't know how or where I stumbled across Fathima & her beautiful work but I am so glad I did. It was Illustration love at first sight and I knew she'd be the perfect person to design my new logo & branding. Working with Fathima was a truly great experience and I am so pleased with my awesome new logo & branding. Fathima is an extremely creative individual and throughout the process she was truly professional and honest. Having a branding guide to work from has really helped me develop my website & business making it more professional and recognisable. Thank you, Fathima!"
Nicola has since created a lovely site for herself where she shares her work and also provides some really useful information on her blog. It's worth checking out, and if you're looking to get some web design work done, you know where to go 🙂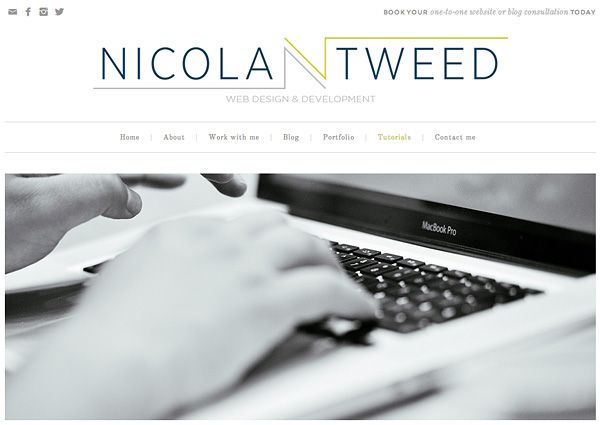 Stay tuned for more posts like this on more projects I've worked on.
Follow Happiness is… twitter • facebook • instagram • pinterest • bloglovin'