Happy 2016!

Hope you've all had a wonderful and restful holiday and are refreshed for the new year. I've broken my holiday up into two phases: 01 rest and chill, 02 work catchup and prep. I've spent a loooot of time asleep these holz and it's been amazing. I'm generally chronically sleep deprived most of the year due to bad sleep habits, so it's been so great to just relax and get ALL the sleep without stressing that I'm not getting work done. This week it's onto phase two, where I'll be cleaning up my systems and processes to improve areas where I found problems last year and to make everything run more smoothly this year. I'm also going to be finalising my new site and online store! Can't wait for that, keep an eye out for giveaways and new products coming with that later this month. Then it's officially back to work from next week Monday.
In case you missed it last year, you can still order a
2016 calendar
in printable or printed form.
Here's your January calendar, created using hand lettering with ink and brush pen, by me. Hope you like it, and here's wishing you an amazing start to the year and a great day today if it's your first day back at work 🙂
Get your copy now and share this post with your friends!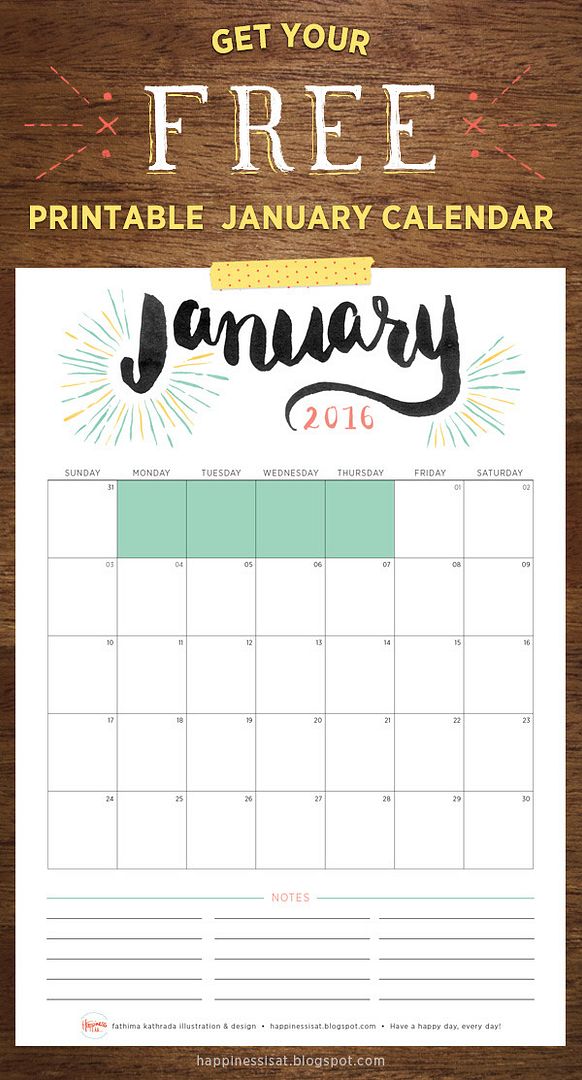 Please take a second to comment with your answer
to one little question for me:
Do you prefer the week starting on a Sunday or Monday on the calendars?
(i.e. it currently starts on a Sunday)
Please comment with either Sunday or Monday.
You can also let me know if you have a favourite calendar design from the past calendars,
or which ones you liked best so I can create more like those for you 😉
Thank you, your feedback is hugely appreciated!
Get your calendars first PLUS extra exclusive printable freebies by subscribing to the Happiness is… Lucky Packet!
Have a fantastic start to 2016!